Boz French is the main antagonist in Com 50-3: Raid on Central Island and the second leader of Cal Pada after Shriff Aha. He is more calculative and competent than his predecessor.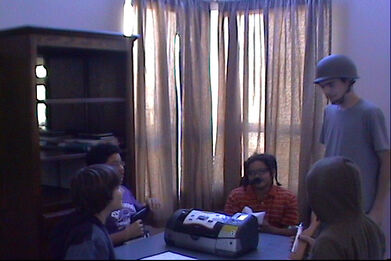 Character Details
Edit
Physical Description
Edit
Boz French is skinny with short hair and no facial hair. He wears a plain gray shirt, dark blue pants, and an army helmet.
Characteristics
Edit
Boz French is calculative in his plans, but is usually more frustrated than cunning, as his cohorts are typically dumb. Despite this, he is able to lead them and unleash Cal Pada's plans. Only Com 50 and 007 are able to stop him.
This character is named after Boz French, a villain from an unknown spy activity play set. This play set also featured the location of Central Island.
This is the first villain that Daniel Bermudez played that did not feature the iconic wiggling mustache.
Community content is available under
CC-BY-SA
unless otherwise noted.