Dareth is one of the main characters in Ninjago: Visions of Memories. He is cocky and sure of himself, but usually cowers when real danger comes his way. He runs Grand Sensei Dareth's Mojo Dojo and first appeared in in the Ninjago LEGO product line and TV show.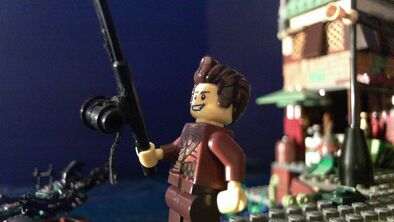 Character Details
Edit
Physical Description
Edit
Dareth wears all brown garbs, with dark brown pants and brown robes with gold ornamentation. He wears a gold necklace around his neck and a brown cloth around his waist. His hair is slicked up and glossy and is brown, as are his eyebrows. He usually has a wide and prideful smirk across his face. As indicated by a crease in his robes, he is slightly overweight.
Characteristics
Edit
Dareth is cocky and the self-proclaimed "brown ninja." Thinking that his skills are just as natural as any of the ninja, he often volunteers to help them in any way that he can. Often letting his pride get the best of him, he usually runs and hides when real danger comes his way. In his spare time, he runs Grand Sensei Dareth's Mojo Dojo.
Before Mustache Maniacs Film Co.
Edit
Dareth was first introduced in season 2 of the TV show Ninjago: Masters of Spinjitzu. There, he was shown as the boastful owner of his dojo, but willing to help the ninja train Lloyd Garmadon. Throughout the show, he will appear from time to time, helping the ninja stop whatever has come to destroy the world of Ninjago.
Outside of the TV show, he has appeared in two LEGO sets: 5002144 Ninjago Battle Pack and 70751 Temple of Airjitzu. In addition to this, he has also appeared as a playable character in both Ninjago: Nindroids and Ninjago: Shadow of Ronin video games. In LEGO Dimensions, he appears as a non-playable character who assigns a mission.
This is the first Ninjago character to appear in the TV show before the sets.
In the TV show, this character is played by Alan Marriott. Charlie Schlatter plays this role in LEGO Dimensions.
His favorite food is Mister Chen's Puffy Pot-stickers.
External Links
Edit
Community content is available under
CC-BY-SA
unless otherwise noted.