Dr. Daniel Thunder is the father of Johnny Thunder and one of the original guardians of the Hidden Mysteries. He appears in Johnny Thunder and the Wisdom of the Ancients.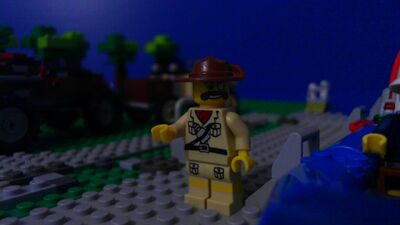 Character Details
Physical Description
Dr. Daniel Thunder is an older gentleman, with a thick gray mustache, a monocle covering his left eye, and a head of graying black hair. He wears a tan jacket with dark red undershirt and has a canteen slung across his chest. He wears tan shorts with pockets and sports tan boots. He wears a brown slouch hat, which would later be worn by Johnny.
Characteristics
Being world-renowned, Dr. Daniel Thunder is a brave and resourceful adventurer, just like his son Johnny. He had gone on many adventures, but also worked to keep many secrets out of the wrong hands. He was married to Kelly Thunder, who never appears in the film or in anything for that matter; she is only mentioned once.
Before Mustache Maniacs Film Co.
Dr. Daniel Thunder was never described in the official story line for LEGO's Adventurers sets, but a character description can be found on www.freewebs.com/mylego, a fan website created by Lego-Export-Elizabeth.
According to the website, Dr. Daniel Thunder led a team of adventurers comprised of himself, Dr. Kilroy, Lord Sam Sinister, Inderia (Babloo's mother), Wing Lin (Jing Lee's mother), and Kalden (Sherpa Sanye Dorje's father). However, out of greed, Lord Sinister betrayed the other five, intending to kill them all. After killing Inderia, Wing Lin, and Kalden, he struck down Dr. Daniel Thunder. As Lord Sinister advanced on Dr. Kilroy, he cut Sam's hand off, forcing him to retreat. Before Daniel died, he gave Dr. Kilroy his slouch hat to give to his son Jonathon.
Trivia
Daniel's wife Kelly is named after Kelly Hegland, friend and associate of Johnny Thunder voice actor Daniel Bermudez.
In Johnny Thunder and the Wisdom of the Ancients, Dr. Daniel Thunder is a Freemason.
His story was included in Johnny Thunder and the Wisdom of the Ancients due to fan request. However, notable changes were made to the story to make it work in the official cinematic universe. Inderia, Wing Lin, and Kalden were all ret-coned as the three remaining associates, instead being replaced by

Gabriel

(

Gabarro's

father), Dr. Artimus Rhodes (Grandfather to Professor Samantha Rhodes), and Block Sauniere (Dr. Kilroy's friend from Johnny Thunder and the Secret of Marco Polo).
He uses many of the designs created for the Explorer collectible minifigure.