Jurassic World: Dominion Dominates Fandom Wikis - The Loop
Play Sound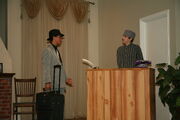 "All will be revealed in a good time."
Mr X., Mystery at Shady Acres
Not Yet Released This page is about a project that is not yet publicly released. Because of this, all details are subject to change without notice until the release date arrives.
Dr. Robert Nicholas is a secondary character in the upcoming animated film A Future in the Past who is concerned with the Earth's well-being. He is a scientist in the Paradox Faction's XERRD division and is the creator of the Hall of Extinction. He first appeared as a very minor character in the role-playing game Dino Attack: At War's End.
Physical Description
Dr. Robert Nicholas is dressed as a XERRD scientist, which includes a lab coat with the XERRD logo and black trousers. His facial features include a large brown mustache and thick eyeglasses.
Characteristics
Robert Nicholas was initially malicious and power-hungry when working with the mutant dinos. However, he grew a soft spot for the environment after seeing the destruction that he helped cause and Dr. Rex's loss of control of the Maelstrom. This is partially why he conceived the idea for the Hall of Extinction. He ostensibly has a high IQ of 300.
Before Mustache Maniacs Film Co.
Robert Nicholas started out as a background character working for XERRD in the Dino Attack RPG. There, he worked primarily with mechanics and robotics and saw Dr. Rex lose control of the Maelstrom. Sometime during the RPG's final battle, he was captured by the Dino Attack Team, but lived through the end.
Appearances
Trivia
This character is loosely modeled after Dr. Ivo "Eggman" Robotnik, the main villain from the Sonic the Hedgehog video games.
This character was added to A Future in the Past in order to tie the comics DINO ATTACK: Saga of a Conflict into the rest of Project U.
Gallery
External Links