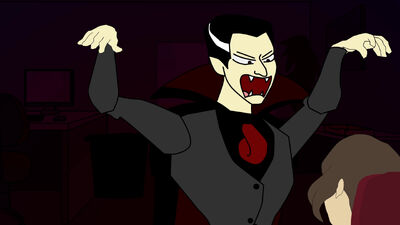 Dracula is the antagonist in A Bite of MyJobs. He is an undead vampire who creeps through the night, looking for human victims to kill for their blood. He originated in Bram Stoker's novel Dracula.
Character Details
Edit
Physical Description
Edit
Dracula is a tall and thin vampire with a pale complextion. He wears a dark gray aristocratic suit with black buttons and a black and dark red cape covers his back. He has black hair highlighted by a white streak, pointed ears, a beak-like nose, and small, pointed fangs.
Characteristics
Edit
Dracula is a cunning vampire who sneaks through the night, looking for humans to drain of their blood. He has the power to turn into a bat and hypnotize his victims. However, when things don't go his way, he also can easily become frustrated. Anything boring will also cause him to fall into a trance.
Before Mustache Maniacs Film Co.
Edit
Dracula first appeared in Bram Stoker's 1897 novel Dracula as Count Dracula. In the novel, Dracula is an aristocrat who lives in his aging castle in the Carpathian Mountains. After inviting Jonathon Harker to his estate, Dracula moves to England, where he transforms Lucy into a vampire. During a final showdown back in his estate, Dracula is killed by Harker's kukri and Morris' Bowie Knife.
Since the novel's release, Dracula has been depicted in a wide variety of media. This includes comics, television shows, and more. In movies, Dracula has been portrayed more often than any other horror character, including such films ranging from Nosferatu and Dracula (1931) to Van Helsing and Hotel Transylvania.
Community content is available under
CC-BY-SA
unless otherwise noted.