Frank Honey
is a relatively minor character in the film
A Friend of the Police
and is a big fan of fellow officer 
Chase McCain
. He has yet to appear in any official LEGO sets, but did originally appear in the video game
LEGO City Undercover
, where he plays a major role.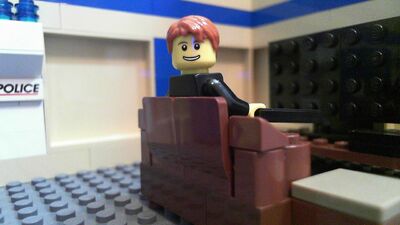 Character Details
Edit
Physical Description
Edit
Frank is an ever-smiling, simple-minded police officer who has a simple smile and eyes on his face, with no facial hair. His hair is a scraggly off-orange, just like that of his fellow officer Chase McCain (it is combed back in LEGO City Undercover). He wears a black standard-issue police uniform, with a dark blue version being worn in Project U.
Characteristics
Edit
Like a good version of Patrick, Frank Honey is a man of little intelligence who follows along with those around him. He is very clumsy, and is known to usually mistake one thing for something else, like mistaking a hornet's nest for a pinata, for example. He has the best intentions in mind, but usually ends up messing things up.
Before Mustache Maniacs Film Co.
Edit
Frank Honey first appeared in the video game LEGO City Undercover as the first police officer Chase meets at the police station. He also shows Chase around the station and shows him where everything is. After that, he appears randomly throughout the game, greeting Chase and offering unnecessary help. He also has a crush on fellow officer Ellie Phillips. In LEGO City Undercover: The Chase Begins, he is working as an intern. He has not appeared in any LEGO sets, but may in the near future.
In LEGO City Undercover, he is played by Trevor White.
He comes from a rich family, as his parents own the Honey Hotel in the Paradise Sands area of LEGO City.
During slow times at the police station, he is known to play video games.
Because he once mistook his reflection for a ghost, he believes that the police station is haunted.
External Links
Edit
Community content is available under
CC-BY-SA
unless otherwise noted.