Gearbox is an Alpha Team agent who is affluent with mechanics and is Cam's assistant mechanic. While he had never appeared in physical form before Alpha Team: Mission Deep Jungle, he was first mentioned in a 2004 LEGO Magazine as the inventor of the Tundra Tracker.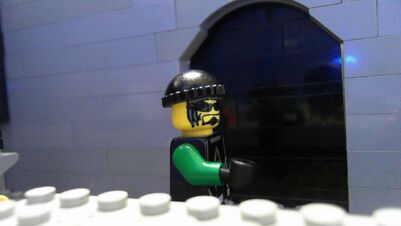 Character Details
Edit
Physical Description
Edit
Gearbox dresses in all black with a triangle logo on his chest. His right sleeve is green, he wears black sunglasses, and has a black bean hat on his head. He has a thick goatee and a thin mouth.
Characteristics
Edit
Gearbox is a faithful member of the team, but tends to spend most of his time in the base. His typical tasks include housekeeping Alpha Team HQ and repairing vehicles when Cam is away on a mission.
Before Mustache Maniacs Film Co.
Edit
Gearbox started out as the Alpha Team agent that created the Tundra Tracker. However, he is only mentioning is in a blurb in a 2004 LEGO Magazine. He never appeared as a minifigure and was never featured visually.
When Gearbox was going to be introduced for Alpha Team: Mission Deep Jungle, the minifigure for Diamond Tooth was used for the movie, with Flex's Mission Deep Freeze variant becoming the new Diamond Tooth.
He was added to the film so that this character could finally appear in physical form.
External Links
Edit
Community content is available under
CC-BY-SA
unless otherwise noted.