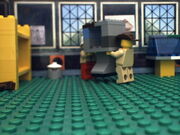 "The curator wanted to thank us for helping with the new Da Vinci Gallery."
-Pippin Reed Thunder, Johnny Thunder and the Secret of Marco Polo
Needs Improving This page needs to be improved in order to fit the standards of the Mustache Maniacs Film Co. Wiki.
Reason: Needs additional information related to "Johnny Thunder and the Secret of Marco Polo: The Adventure Retold" as it becomes available.
Maharajah Lallu is a villain that was going to appear in Johnny Thunder and the Secret of Marco Polo, but was cut early in the pre-production phase. He originally appeared in the LEGO Orient Expedition sets as the tyrant of Babloo's village, a role he was going to fill in the movie. He will, however, appear in the film's remake.
Physical Description
Maharajah Lallu features gray facial hair and an angry expression along with a white turban on his head. His clothes are orange in hue, with a flower-like pattern on his shirt. He has a knife tucked under his belt for protection.
Characteristics
According to the character description, he is ruthless and selfish, caring only for the sunstone that will free Babloo's people. He is eager to work with Lord Sinister and his henchmen to find Marco Polo's Golden Shield. He also lives at the Scorpion Palace, not knowing it to be the hiding place of the Golden Shield.
Before Mustache Maniacs Film Co.
Maharajah Lallu originally appeared as a villain in the LEGO Orient Expedition sets who helped Lord Sinister in India. In the story line, he commanded an army of guards that he used to suppress Babloo's village. Only the power of the sunstone, which Dr. Kilroy later finds, can end his reign. Eventually, Dr. Kilroy hands the sunstone over to Babloo, who then uses it to banish Maharajah Lallu and his guards forever.
He, along with one guard, only appeared in one set in the Orient Expedition product line: 7418 Scorpion Palace. However, the character also appeared on a key chain, as well as on some sticker sheets, in a promotional Applebee's kid's menu and activity book, and on other promotional merchandise.
Appearances
Trivia
Even though this character never appeared in Johnny Thunder and the Secret of Marco Polo, his minifigure appears in the finished film as one of the Indian thieves that help Lord Sinister.
The story line of this character is possibly inspired by the film Indiana Jones and the Temple of Doom.