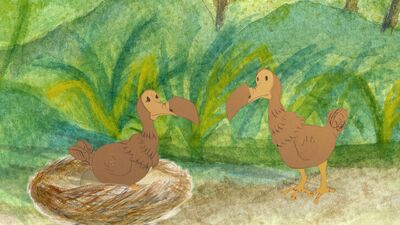 Mama Dodo is the mate of Papa Dodo in the animated film New Friends ~ An Environmental Fable. While Papa Dodo scours for food, Mama Dodo stays at the nest, caring for her unborn young.
Character Details
Edit
Physical Description
Edit
Mama Dodo looks just like her dodo kin, with a light tan head and dusty brown feathers and beak. She also has yellow legs and feet. The only difference that she has from the other dodos is that she has eyelashes, making her look feminine.
Characteristics
Edit
Mama Dodo is loving and caring, both towards Papa Dodo and the eggs in her nest. She spends most of her day sitting in her nest and keeping her eggs warm while her mate Papa Dodo searches for food. She even stays in her nest when the sailors aboard the S.S. Comis arrive on the island.
Mama Dodo is one of only two characters in New Friends ~ An Environmental Fable that started production with a given name; the other is her mate, Papa Dodo.
Interestingly, this character is the only female dodo depicted in New Friends ~ An Environmental Fable.
For this character's acceptance speech at The Second Mustache Maniacs Film Co. Fan Choice Awards, Christine Kurt's original voice file was re-used.
This character has its own voice file of squaks and purs.
Community content is available under
CC-BY-SA
unless otherwise noted.