Mustache Maniacs Film Co. GeoSafari is a series of custom-made cards for the GeoSafari Electronic Gaming System that quiz players on several aspects of Mustache Maniacs Film Co.'s characters and history.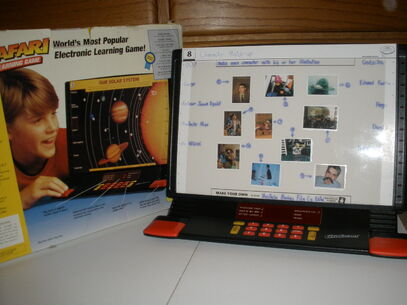 Game Details
Edit
Release Date: August 1, 2009
Game Play Time: 5-10 min. (per card)
Game Type: Electronic Quiz
Number of Players: 1-2
Contents
Edit
Mustache Maniacs Film Co. GeoSafari includes ten different quiz cards that challenge the players' skills in remembering several key facts about Mustache Maniacs Film Co.'s movies. The GeoSafari Entertainment System is required to play the game.
Quote Puzzler and Quote Puzzler 2 feature a collection of various quotes with a series of characters' names. Several other cards, including Location Confusion and Com 50's Gadgets also follow this same formula. However, Hero or Villain? only gives the option of hero or villain, with the names of several characters along either side of the card.
Features and Game Play
Edit
Just like any other GeoSafari card, the game follows a rudimentary matching formula that the gaming system is renowned for. In a 1 player game, the player tries to get as many questions correct in the time limit as possible, with a final score added up at the end of the game. In a 2 player game, both players compete for points, pressing their button when they think they know the answer. At the end of the game, the person with the highest number of points is the winner.
Spoiler warning!
This section contains details that reveal crucial plot points. If you do not want to find out what happens, skip to the next section.
Mustache Maniacs Film Co. GeoSafari 
contains examples of the following tropes.
Mustache Maniacs Film Co. GeoSafari was made by using a Make Your Own GeoSafari cards expansion set.
While more cards for this game were intended to be made, they were eventually cancelled.
This game was created as part of the Fifth Anniversary Celebration.
Community content is available under
CC-BY-SA
unless otherwise noted.