Nevada Smith 
is one of
Lord Sinister's
henchmen in the 2008 animated film 
Johnny Thunder and the Secret of Marco Polo
. He is intelligent, but very impulsive, usually putting himself in harm's way. He dies at the hands of giant tiger
Tygurah
.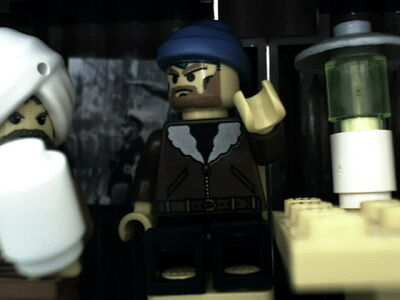 Character Details
Edit
Film Credits: Johnny Thunder and the Secret of Marco Polo
Character Role: Henchman
Actor: John Stabe
Character Sex: Male
Physical Description
Edit
Nevada Smith has a gruff look to his face, with a blue bandanna wrapped on his head. He wears a brown pilot's jacket (similar to that worn by Harry Cane) with black pants.
Characteristics
Edit
Nevada Smith is a gruff, yet impulsive, adventurer who is indebted to Lord Sinister's services. He started out as an adventurer at the Explorer's Institute who was interested in locating the tomb of Egyptian Pharaoh Ramalamadingdong. However, when he and his hired men, including Patrick and William "Billy the Kid" Parker, were trapped inside the tomb, they were forced to live off of the unnamed excavation workers. After Lord Sinister rescued them a few days later, Nevada Smith employed the services of him and his remaining team to him.
The name Nevada Smith came from early versions of Raiders of the Lost Ark, where the character of Indiana Jones was going to be called Nevada Smith.
The mummy he found in his back story, Ramalamadingdong, is a reference to the Pioneer Drama Service play Unwrapped, which was considered for the 2007 Cornerstone Thespian Society performance before Mystery at Shady Acres was chosen.
Although Johnny Thunder and the Secret of Marco Polo is the only film that this character appeared in, his skeleton makes a brief cameo in A Very Patrick Christmas.
Out of Lord Sinister's three original henchmen, this one was the least liked.