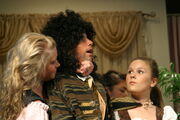 "If you're lying, I'll skewer you and roast your liver!"
-Sarah Huffington, Jolly Roger and the Pirate Queen
Non-Canon The subject of this article is not canonical to Mustache Maniacs Film Co.'s official cinematic universe.
Pippin's Jungle Juice Blend is a drink that was concocted for the world premiere of Johnny Thunder and the Wisdom of the Ancients. Because it was made just for the event, the beverage is decidedly non-canon.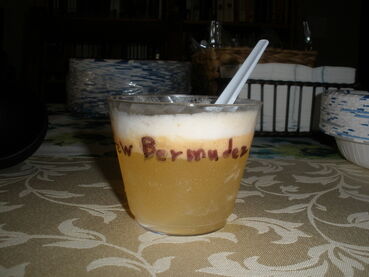 Canon Details
Canon Element Type: Drink
Function: Nourishment
Appearances: n/a
Real or Fictional: Real
History
When the private world premiere for Johnny Thunder and the Wisdom of the Ancients was scheduled for August 23, 2014, one of the ideas proposed was to feature cuisines from all over the world, representing the countries depicted in the film. However, as director Andrew Bermudez had just visited the theme parks in the central Florida area and had discovered specialty drinks, he wanted to make one of his own for the party. Because of this, Pippin's Jungle Juice Blend was created. It proved to be a hit at the party.
Functions
The beverage is intended, like any other beverage, to nourish the consumer. However, as this drink has some ice cream in it, some of the drink might have to be scooped out with a spoon.
Trivia
This drink is modeled after Butterbeer, a drink that can be bought in the Harry Potter lands at many of Universal's theme parks, as well as at the Harry Potter studio tour in London.
The recipe for this drink only makes batches for punch bowls, meaning that individual drinks cannot be made one at a time.
Due to the success of this drink, Andrew Bermudez considered making a Mustache Maniacs Film Co. Cookbook. However, this project fell through.