(Updated formatting.)

Tags: apiedit Visual edit

Line 1:
Line 1:
 

'''Private Joe Kilroy''' is the main character in ''[[Kilroy Was Here!]]'' and is the film's protagonist. He is most noted for his compulsive habit of drawing the famous Kilroy Was Here doodle where ever he goes.

 

'''Private Joe Kilroy''' is the main character in ''[[Kilroy Was Here!]]'' and is the film's protagonist. He is most noted for his compulsive habit of drawing the famous Kilroy Was Here doodle where ever he goes.

 
+

[[File:IMG 5867.jpg|thumb|479x479px]]{{Infobox_character|title = Private Joe Kilroy|profession = U.S. Soldier|age = 21|status = Deceased|height = 5'10"|weight = 156 lbs.|non-movie appearances = n/a|Quotes = "It'll be our little secret."

−

[[File:IMG 5867.jpg|thumb|479x479px]]

 
 
+

"Her name is Gladys."}}

 
 
 

== Character Details ==

 

== Character Details ==

−

* Film Credits: ''[[Kilroy Was Here!]]''; ''[[A Future in the Past]]'' (not yet released)

+

* Film Credits: ''[[Kilroy Was Here!]]''; ''[[A Future in the Past]]'' (not yet released)

−

* Character Role: Protagonist

+

* Character Role: Protagonist

−

* Actor: [[Steve Marlowe]]

+

* Actor: [[Steve Marlowe]]

−

* Character Sex: Male

+

* Character Sex: Male

 
 
 

== Physical Description ==

 

== Physical Description ==
---
Revision as of 04:32, 9 March 2017
Private Joe Kilroy is the main character in Kilroy Was Here! and is the film's protagonist. He is most noted for his compulsive habit of drawing the famous Kilroy Was Here doodle where ever he goes.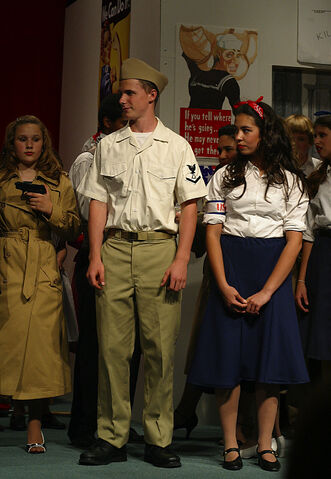 Character Details
Physical Description
Private Joe Kilroy has a clean-shaven face with a short haircut. He wears a white dress shirt with short sleeves and a private rank stripe on his left sleeve. He also wears a tan garrison cap, tan pants with a tan belt, and black shoes.
When he ships out overseas, he wears a dark green M1 Steelpot helmet on his head. His uniform is green with pockets strewn about. His pants are olive green with tan leggings and black shoes. He has mud and grease stains on his face in this variation.
Characteristics
Private Joe Kilroy is a courteous military recruit who initially loves to hang out at the U.S.O. Club with his friends. He considers himself an artist, as he commonly draws Kilroy Was Here doodles where ever he goes. Later, it turns out that he is actually an O.S.S. agent.
When he is deployed overseas, he becomes a corporal and continues to work with the O.S.S., lending reluctant assistance to an unknown ally. At this time, he has become hardened and mistrusting of anyone that he doesn't see as an ally.
Before Mustache Maniacs Film Co.
Private Joe Kilroy was created by Tim Kelly as the main character for his play Kilroy Was Here!. There, he served as the play's main focal point, eventually revealing himself as an O.S.S. agent. When the Cornerstone Thespian Society performed the play in 2005 and the DVD was released a year later, this character was officially entered into the Mustache Maniacs Film Co. cinematic universe.
Trivia
In A Future in the Past, this character is promoted to corporal and is part of the 9th Infantry Division.
In the European cast version of Kilroy Was Here!, this character was played by Michael O'Kelley.
This character is Dr. Kilroy's first cousin, separated by 22 years in age.
Gallery