Ralph Vagabond is the main character and antagonist in the short film Seeing Eye Robber. He is regarded as the world's worst criminal, mainly because he has bad eyesight, even though he wears glasses. Because he can't drive, he has a partner and designated driver named James.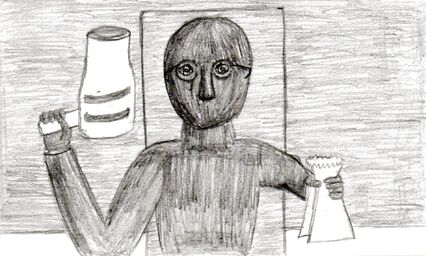 Character Details
Edit
Physical Description
Edit
Ralph Vagabond dresses all in black with glasses over his ski mask. When he is not wearing his ski mask, he has a plain face, with combed-back hair, wide eyes, and thin eyebrows.
Characteristics
Edit
Ralph Vagabond is a criminal who has bad eyesight, which caused him to become the world's worst criminal. Not even his glasses properly correct his eyesight. Because he also isn't very bright, he commonly mistakes a hair dryer for a handgun, a ring pop for a diamond ring, and Dan K. Donuts for a bank. Other personal details about this character are unknown.
This character was created for Storyboarding/Story Development class at College of the Canyons.
Even though this character is played by Nathan Crookston, this character's only spoken line is a loud growl.
Community content is available under
CC-BY-SA
unless otherwise noted.