Riding Crop Ranch is the home of the Parker family. Alfred, Dove, Six Shots, and Billy the Kid make their residence here and acts as the main hideout for Lord Sinister in Johnny Thunder and the Wisdom of the Ancients.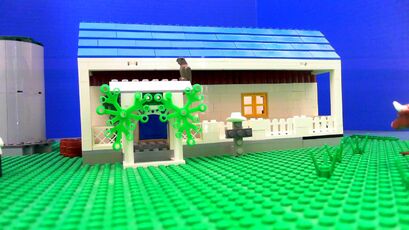 Location Details
History
Riding Crop Ranch was founded in 1906 right outside Johnson City, Texas by Alfred Parker's father, Bart Parker, as a dairy and egg farm. Throughout the years, the farm has maintained these functions.
In 2012, after failing to beat Johnny Thunder to the gold of Captain Ironhook, Lord Sinister, at the suggestion of his henchman John "Six Shots" Parker, made his home in the farm's ranch house, where he was able to give Captain Sugar ample room to train his Russian Mercenaries without raising attention. In exchange for the shelter, Patrick, Thomas Skint, and John Parker worked the farm.
In 2014, Lord Sam Sinister, reading through a newspaper, learned of Johnny's discovery in L'Anse Aux Meadows. Gathering up his men, they are all cut off by psychic Steven Sever, who proves that he is who he is by killing their goat by using his mind. Ever since then, only Alfred and Dove Parker have inhabited the farm, though they have since hired ranch-hands to replace the henchmen.
Characters of Residency
The following characters are commonly found in Riding Crop Ranch.
Steven Sever

Captain Vladimir Sugar

Russian Mercenaries
Goat (Dead)
Cow
Trivia
The name "Riding Crop Ranch" is loosely inspired by the character Otto Von Strongman from the

Pioneer Drama Service

Play Unwrapped, who always carried a riding crop around with him.
The ranch's location, Johnson City, Texas, was chosen mainly because that was one of the cities visited in

From Sea to Shining Sea

and was seen as an ideal location for the ranch. In real life, former U.S. president L.B. Johnson has a ranch here.
The cross in front of the ranch house signifies the memory of Billy the Kid, who had died in Johnny Thunder and the Secret of Marco Polo.