Sarah Huffington is one of the main characters in Jolly Roger and the Pirate Queen, and acts as the love interest of Roger Goodman. She craves excitement and eventually becomes Captain Huffenpuff, the Pirate Queen.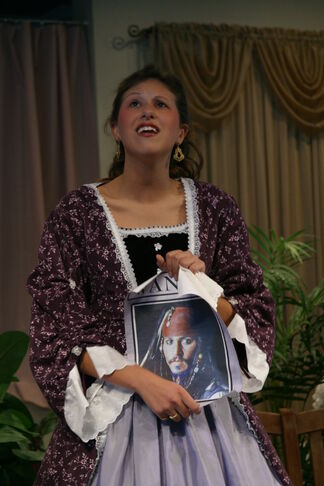 Character Details
Physical Description
At the play's beginning, Sarah wears a lavender dress that runs down to her ankles, with dark accents and flower patterns added throughout. She wears diamond-shaped earrings and in general dresses in a very aristocratic manner.
When she becomes the Pirate Queen, she changes into an olive green dress and a black blouse with white stripes. She also wears a tricorn hat on her head and wears a red bandanna around her waist.
Characteristics
Sarah Huffington is a very excitable and hyperactive lady, wanting her life to be as exciting as the stories she reads. Her best friends, Kate and Belinda, think that she can get ahead of herself and can become mentally detached from reality, but will trust Sarah and follow along. Sarah spends most of her time reading in the family garden, but will also seek out new ways to experience new things.
Before Mustache Maniacs Film Co.
Sarah Huffington started out as a character for Craig Sodaro's script Jolly Roger and the Pirate Queen, serving the same role that she has in the finished play. While she used to have more slapstick jokes associated with her lines, here role remains the same in the final production.
Trivia
According to the official canon, Sarah once read the story of Captain Miguel's discovery of Mauritius Island, the main event of New Friends ~ An Environmental Fable.
While Sarah's alter ego is typically referred to as the Pirate Queen, her official pirate name, Captain Huffenpuff, is uttered once in the play.
The play never explicitly states how Sarah came to obtain the

S.S. Sultana

. however, the canon states that, wanting some excitement, she and her crew stole the lightly-manned schooner and took the ship's crew prisoner.