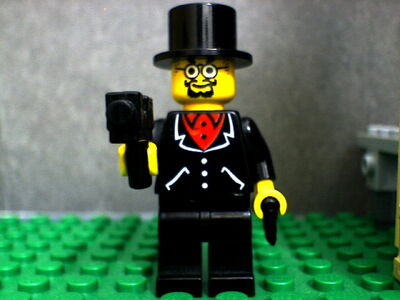 Slyboots is an accomplice to Lord Sam Sinister in Johnny Thunder and the Gift of the Nile. He is an influential leader in the Egyptian Black Market and always works to make a profit. He first appeared as the main antagonist in the 1998 LEGO Adventurers sets.
Character Details
Edit
Physical Description
Edit
Slyboots is a clever businessman, with round glasses, fine beard, and thin mustache on his face. He wears black from head to toe, with a black top hat upon his head. His fine dress suit is black with a red button-up undershirt and he wears black pants.
Characteristics
Edit
Slyboots is a former prizefighter and shrewd businessman who has great influence in the Egyptian Black Market. Leading a band of masked bandits, he steals treasure and artifacts from ancient burial sites, only to then turn around and sell his loot to tourists for a premium price. He has constantly been a hassle for men like Hiram Aziz.
Before Mustache Maniacs Film Co.
Edit
Slyboots started out as the main antagonist in the 1998 LEGO Adventurers sets, where he worked with his then-sidekick Baron Von Barron (originally, Slyboots was named Sam Sinister, at least in North America, usually). Around the same time, he also appeared in the puzzle storybook The Curse of the Mummy as a tomb robber. During the duration of the theme, he only appeared in five sets.
After he took his final product bow, he went on to appear in LEGO Racers, LEGO Racers 2, and Soccer Mania. He also appeared on select Adventurers merchandise, such as the game TreasureQuest, clothing, and more.
This character was originally named Sam Sinister. However, in 2000, his name changed to Slyboots when the former Baron Von Barron took on his new name. Despite this, Slyboots is still called Sam Sinister in Soccer Mania.
Slyboots' bandits are modeled after BrickArms' now-discontinued minifigure Mr. Gray, who was pulled from the site after allegations of racial stereotyping.
Unlike Chang Wu in Johnny Thunder and the Secret of Marco Polo, Slyboots was not killed; he was instead arrested by the Egyptian police force. Because of this, Slyboots may return in another film.
An April 17, 2020 canon change mentions that this character is a former prizefighter who got into the Egyptian black market after falling on hard times. This references the German language Adventurers audio drama Die Jagd nach dem Pharaonenschatz (or The Hunt for the Pharaoh's Treasure), where Slyboots is described as being a former prizefighter.
Community content is available under
CC-BY-SA
unless otherwise noted.