Stanley Larson is one of the characters in Mystery at Shady Acres. Initially perceived as a poor hotel guest, Stanley is later revealed to be New England's Notorious Arsonist and partner in crime with Miss Henrietta Clifford.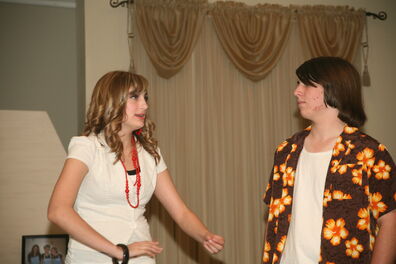 Character Details
Edit
Physical Description
Edit
Stanley has long hair, no facial hair, and a face that is dotted with pimples. His build is average and he wears a white undershirt, a Hawaiian shirt, and jeans.
Characteristics
Edit
Stanley Larson is described as a very charming and friendly character, but he uses those traits to cover his trail as New England's Notorious Arsonist. He is very talkative and tries to get to know everyone around him, which also acts as his cover.
Before Mustache Maniacs Film Co.
Edit
Stanley Larson started out as a character in Michelle R. Davis' Mystery at Shady Acres as the same role that he has in the Cornerstone Thespian Society production of the play. In the Mustache Maniacs Film Co. version of this film, the character of Stanley Larson dies while fleeing Mr. X.
Stanley Larson's real name, as mentioned in the film, is Stanley L. Arson, relating to his profession.
According to the original production script, Mr. X was going to read a newspaper in act 1 scene 1 with the headline, "New England's Notorious Arsonist Strikes Again!," alluding to this character. Instead, he reads a Spongebob Squarepants magazine, making the original production's lines about Stanley's career seem to come from thin air. In the 2012 re-release, the Shady Acres Super Sleuth game fixes this issue.
Community content is available under
CC-BY-SA
unless otherwise noted.