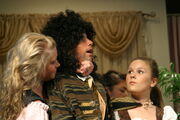 "If you're lying, I'll skewer you and roast your liver!"
-Sarah Huffington, Jolly Roger and the Pirate Queen
Non-Canon The subject of this article is not canonical to Mustache Maniacs Film Co.'s official cinematic universe.
The Rented Christmas is a play that was performed by the Cornerstone Thespian Society on December 1 and 2, 2006. The script is based on the short story The Man Who Rented Christmas by J. Lillian Vandervere, which was adapted by Norman C. Ahern, Jr. and Yvonne Ahern, and was produced by special arrangement with Pioneer Drama Service, Inc., Englewood, CO.
Plot Summary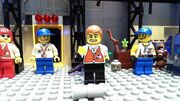 "Stop it! Stop it! You're ruining everything!"
-Theodore Taylor, Mustache Maniacs Film Co. is Coming to LEGO Dimensions!
Spoiler warning! This section contains details that reveal crucial plot points. If you do not want to find out what happens, skip to the next section.
The film begins with a prologue that explores the true meaning of Christmas, which the narrator is able to articulate as love, a theme that forms the apex of John Dale's conflict throughout the story.
The scene opens on a rental shop, where owner Anne Weston and her assistant Jimmy lament over how preparations for Christmas have left their shop with no business. Just then, a charitable single man named John Dale enters with an order for a rented Christmas. He reasons that, since the shop can rent anything, there should be no reason to not rent a Christmas. He asks for decorations, a family, carols, and presents. Anne and John are unsure what to make of this, but John pays upfront with a healthy check.
Immediately, Anne and Jimmy scramble to figure out how to fulfil this order. However, when Jimmy figures out that what John Dale is really asking for is essentially a private play in his own home, Anne contacts the actors' guild and sets up appointments for the actors to perform. In the meantime, Anne and Jimmy prepare the physical props for this "Rented Christmas."
The next day, John Dale's two maids, Bridget and Martha, discuss how exactly this "Rented Christmas" is going to work, but decide that they're going to have to work with it. Anne arrives and meets the two maids to talk about the plans, as well as find out more about John. Apparently, John Dale has not celebrated Christmas since his parents passed away, with Bridget and Martha basically being the only family he has left, though he has an estranged brother named Lyle Dale whom he hasn't seen in years after a massive disagreement. Anne and the maids figure out what they need and go out shopping while Anne decides to look for a print of John's old Riverton home.
On December 23, Anne arrives with a print of the photo in hand, which the two maids gush over. Bridget goes to wrap the picture when Jimmy arrives. He informs her that two of the actors playing John's four children have called out sick due to the measles, and the other two have already planned to go home for Christmas. Worse, there's no actress to play the wife. Anne is distraught, but Jimmy then asks to play one of the children. This is mainly because, as an orphan, Jimmy just wants to be in a family. They then pick other orphans to play the rest of the children and Anne calls the orphanage.
Bridget returns with a box of Christmas decorations and informs Martha that the children will be from the orphanage. Jimmy interjects, suggesting that Anne play the mother. She's reluctant, since she has a large family, though she isn't married herself. The orphans arrive, along with the proprietor of the orphanage, Mrs. Lindsey. Anne tells the orphans, Jean, Lettie, and Cynthia, about what this "play" is going to be about. Anne promises to pay them, but Jean decides that she would rather do this for free. They pressure Anne into playing the mother, which she agrees to. John is about to arrive, so Bridget and Martha usher the children into the kitchen. John arrives and sits down and a co-worker of his, Fred, arrives to pick up a present. John tells Fred about his plan to rent Christmas, which leaves him in disbelief. Fred doesn't believe that Anne can pull through, but John is confident in her resolve.
On Christmas Eve, Cynthia checks to see if John Dale is coming. As he arrives, everyone gets into their places. As John comes home, Bridget tends to his coat, briefly explaining that Jimmy (who just past him out the door) was a solicitor. Just then, Cynthia and Lettie hug him, calling him daddy. Anne greets him as his wife, which confuses him immensely. As she leaves, John finally figures out this is his "play," and that, at least over the next two days, he's going to immerse himself into his "father" and "wife" role head-first. He calls for Anne and immerses himself into his husband role, which Anne has trouble adjusting to.
Just then, Andrew (Jimmy's stage name) and Jean arrive home, with them hugging John and Anne. Bridget tends to their bags and Cynthia, Lettie, and Martha greet them. They head off to eat dinner, which is now ready. John, playing the father, calls Cynthia Cindy, which she finds endearing (as she's actually an orphan).
After dinner, John talks to Andrew and Jean about their plans after Christmas, and Cynthia brings a Bible to read the Christmas Story. The family gathers as John reads the story. The other orphans arrive and start singing Silent Night. The carolers come in and sing Away in a Manger. Martha brings cookies to the carolers, and the carolers leave. They all head off to bed for Christmas morning, except for Anne and John. Anne heads off to grab some more presents to wrap. They wrap the presents in the living room, and Anne gets the children to bed.
As John looks over the wrapped picture for him, he realizes that he doesn't have a present for Anne, but Martha cuts him off with the presents from "Santa Claus," which Bridget brings in. As Martha places the last presents under the tree, Bridget grabs John's mother's brooch, which he plans to give to Anne. As Bridget gets it wrapped, Anne returns to wish John a good night.
On Christmas morning, Bridget and Martha prepare the living room for the family, whom arrive shortly. The children rush for the presents, which they open. Anne gives John the photo of his old home, which he tears up over. Jean finds a present for Anne, which is John's mother's brooch. After presents, the children race for breakfast when the doorbell rings. It turns out that Lyle has arrived with his wife, Sue, which Anne had arranged. Lyle reconciles his past behavior and both John and Lyle make amends. They go eat breakfast.
Later that morning, Lyle realizes how much he's missed being with John, yet feels overstuffed with food. They agree that they're glad they came, and Sue proposes that they take a walk out in the snow. Lyle agrees to the walk, to help burn off their last meal.
That evening, Anne talks to Jean, who is starting to wish that this family dynamic would last forever. Anne says that the children will be returning to the orphanage, with Bridget arranging the plans. John and Andrew (who Martha starts to refer to as Jimmy again) return, and Jimmy, Jean, Cynthia, and Lettie all leave, albeit reluctantly.
Anne gives John a check to cover the balance for the "play," but John decides to give the difference to the orphanage. John then shocks Anne by saying that his "Rented Christmas" has not left him satisfied. Instead, he would rather adopt Jimmy, Jean, Cynthia, and Lettie and marry Anne, so that he finally can feel the happiness that he's missed since his parents died. Anne agrees.
Production History
After Jolly Roger and the Pirate Queen wrapped up in June as the directorial debut for Valoris Peterson, the Cornerstone Thespian Society went on hiatus for the summer, to return that September. During the summer, questions were brought up on how to handle the society going forward, as it was clear that the older performers were usually upstaging their younger peers. Therefore, when September rolled around, there was a massive shake-up in how Thespians would be run. Now as two groups, anyone in 8th grade and younger would be overseen by Teresa Bermudez and anyone in 9th grade and older would be overseen by Valoris Peterson.
Due to this split, it became necessary for each class to perform a different production. The tradition of Spotlight Night for the Fall was handed over to the younger group while Valoris took it upon herself to select a Christmas play from Pioneer Drama Service's catalog for her older class. While a few options were tossed around, such as The Missing Jesus, the idea that she approved of would be The Rented Christmas.
Both productions were announced in September of 2006, with a projected debut of December 1. Details of the work that went into developing the play are scarce, but one point of contention that came up early was how thin the production was on the number of characters. Many pointed out that, even with the tradition of double-casting, there still wouldn't be enough roles for every student in her class to fill. Because of this, Valoris took it upon herself to write new content for the script (unconfirmed rumors exist that she writes novels under a pseudonym). The running time was extended by 14 min. and four new roles (Lyle, Sue, Narrator, and the Master of Ceremonies) were added, though some criticism came from the fact that the character of Lettie was played by two non-students, Rebekah Marlowe (Green Cast) and Rachel Moneymaker (Red Cast), though the character is intended to be 5 years old.
While this ultimately fixed the issue of casting, these rewrites brought about their own controversy, namely the fact that some of John and Anne's scenes were re-written to be more romantic (this had also happened to Jolly Roger and the Pirate Queen). Some said that these rewrites made the scenes not so much romantic as it did erotic, something that stood in stark contrast to Thespians' commitment to creating family-friendly productions. Controversy also sprung up around Martha and Bridget bringing out the presents from "Santa Claus," saying that this could challenge child audience members' trust in their parents. Despite these claims, Valoris stood her ground and did not change these aspects of the play.
As development neared its close and Mystery at Shady Acres was announced to be performed by the younger class the following year, Glen Wilby took it upon himself to design the look of John Dale's house with all-new set pieces, as well as Anne's rental shop via recycled wood flats from Jolly Roger and the Pirate Queen. The Christmas decorations belonged to Bouquet Canyon Church, including the tree used in the final production. After all was put into place, the play debuted as scheduled on December 1, 2006.
For almost ten years, a DVD of the filmed production sat in the Mustache Maniacs Film Co. archive, doing absolutely nothing. However, when the DVD Archival Project started in 2015 to back up all of the studio's films and files to an external hard drive, the DVD of this performance was found, but put on the back burner in order to focus upon completing Alpha Team: Mission Deep Jungle. The following year, exactly ten years and three days after the production was originally performed, the special edition of The Rented Christmas was released on December 4, 2016.
Audience Reception
Audiences were oddly split on this production. While it was fairly well-received, the play was also fairly controversial in certain respects, especially in regard to the scene that suggests that Santa Claus doesn't exist and the over-sexualization of John and Anne's relationship (even though they're not actually supposed to be married, but rather playing the role of husband and wife). On the other hand, the characters of Bridget and Martha were praised for bringing some personality into the production. In general, while mildly received, Spotlight Night ended up having a far better reception.
However, in spite of this reception, this production cost so much to produce, the play ended up losing money, which would have consequences the following semester. More importantly, though, the complications that had happened behind the scenes with this production would sow the seeds that would lead to the end of the Cornerstone Thespian Society after the debut of The Prince and the Pauper.
Characters
John Dale

(Andrew Johnson)

Anne Weston

(Samantha Stoner)

Jimmy

(John Stabe)

Martha

(Marissa Miano)

Bridget

(Brianna Davis)

Jean

(Timmon Johnson)

Cynthia

(Megan McCauley)

Lettie

(Rebeka Marlowe)

Mrs. Lindsey

(Elena McCauley)

Fred

(Brandon Davis)

Lyle Dale

(Michael Monroe)

Sue

(Lindsey Van Lake)
Narrator (Luke Stabe)
Locations
Rental Shop
John Dale's House
Credits
Valoris Peterson

(Director)

Laura Van Lake

(Manager; Producer)

Michelle Dorosh

(Assistant Manager)

Jennifer Ehlen

(Music Director)

Glen Wilby

(Set Design)

Lindsey Moneymaker

(Prop Design)

Kris Thompson

(Costume Design)

Gloria Cassidy

(Character Development)

Lisa Fidelibus

(Hair and Make-Up Artist)

Linda Maddux

(Treasurer)

Richard Dorosh

(Cameraman)

Helena Johnson

(Program Designer; Set Clean-Up)

Judy Addeo

(Chaperone Organizer)

Georgia Walter

(Set Clean-Up)

Teresa Bermudez

(Assistant)

Paula Whitley

(Assistant)
Andrew Bermudez (Technical Support; Editor; Sound Mixer)
Daniel Bermudez (Master of Ceremonies; Safety Instructor)

Luke Stabe

(Actor)

Samantha Stoner

(Actor)

John Stabe

(Actor)

Andrew Johnson

(Actor)

Brianna Davis

(Actor)

Marissa Miano

(Actor)

Elena McCauley

(Actor)

Timmon Johnson

(Actor)

Megan McCauley

(Actor)

Rebekah Marlowe

(Actor)

Brandon Davis

(Actor)

Michael Monroe

(Actor)

Lindsey Van Lake

(Actor)
Alyssia Derenski (Actor)

Megan Ehlen

(Actor)

Michael O'Kelley

(Actor)

Karina Marlowe

(Actor)

Casey Jennerson

(Actor)

Brian Thompson

(Actor)

Rachel Moneymaker

(Actor)

Steve Marlowe

(Actor)

Tyler Shefton

(Actor)

Jessie Peterson

(Actor)

Greg Wheeler

(Actor)

Stephanie Van Lake

(Actor)

Shannon O'Kelley

(Actor)

Lindsey Moneymaker

(Actor)

Kyle Monroe

(Actor)
Tropes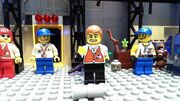 "Stop it! Stop it! You're ruining everything!"
-Theodore Taylor, Mustache Maniacs Film Co. is Coming to LEGO Dimensions!
Spoiler warning! This section contains details that reveal crucial plot points. If you do not want to find out what happens, skip to the next section.
The Rented Christmas contains examples of the following tropes.
Trivia
While this production is contentious within the portfolio of the Cornerstone Thespian Society, there is only one reason that this film is not canonical; Santa Claus is a canonical character. This play, however, depicts Santa as entirely fictional, therefore directly contradicting the official canon.
Lyle and Sue were never in the original script. Valoris Peterson added them, as well as their duet scene, later in development. Why this is is currently not known, though theories range from adding more romance to adding additional characters to an otherwise short (and character-slim) production.
The prologue was added later in production by director Valoris Peterson in order to add a more solid introduction. However, audiences were split on whether this actually did strengthen the production or if it was just unneeded padding.
The end credits has an apology to Bouquet Canyon Church over a Christmas Tree. What happened? During the technical rehearsals, the Christmas Tree that was used in the production (but actually owned by the church) was broken at the base while preparing to dress the stage. Last-minute fixes were made so that it could still be used in the production.
The Master of Ceremonies (M.C.) does not appear in the film version of this play because his role (safety, introductions, prayer) were deemed only needed for the live performance. Because of this, he is not listed in the film's end credits.
Alyssia Derenski and Lindsey Van Lake are the only two actors in this production who played the same character in both the Red and Green casts.
Gallery
External Links