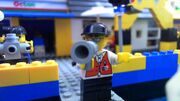 "Okay. Competition's over. Let's get back to the movie."
Seth Masterson, Seth Masterson vs. Shark Hoops
Stub Article This article is a stub. You can help Mustache Maniacs Film Co. Wiki by expanding it.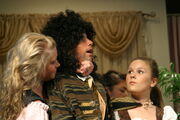 "If you're lying, I'll skewer you and roast your liver!"
-Sarah Huffington, Jolly Roger and the Pirate Queen
Non-Canon The subject of this article is not canonical to Mustache Maniacs Film Co.'s official cinematic universe.
Theo is Sky Lane's pet Great Dane who was going to appear in LEGO Island: The Animated Series.
Physical Description
Theo has a tan skin, brown eyes and black droopy ears.
Characteristics
Theo is a large and intelligent Great Dane that belongs to Sky Lane. He bit The Brickster.
Appearances
LEGO Island: The Animated Series

(2013; Unreleased)
Trivia
Theo is named after Theo, a character from Nutri Ventures.
This character was created after a fan suggestion. Series creator Andrew Bermudez liked the idea of including a pet for Sky Lane in the series, as it gave him an excuse to draw a Great Dane. However, when this series was cancelled, no designs had been created.
Henrie Theo, the antagonist from Johnny Thunder and the Trail of Botnik, was named in honor of this character.