Thief Student is the main antagonist in the short film True Identity. He is crafty and sneaky, but too presumptive about his victims, thinking that they are all helpless and defenseless.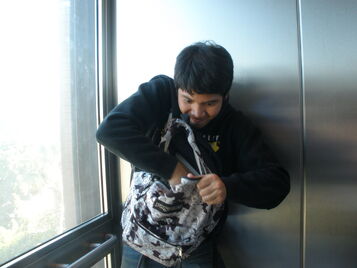 Character Details
Edit
Film Credits: True Identity
Character Role: Antagonist
Actor: Khen Genesis Provido
Character Sex: Male
Physical Description
Edit
The Thief Student has black hair, a black sweater, and a black shirt. He wears blue pants.
Characteristics
Edit
The Thief Student is cunning and always trying to figure out the best way possible to rob his next victim. However, he is also too presumptive, thinking that all of his victims are defenseless and helpless, an assumption that is ultimately his undoing.
Just like other incidental Mustache Maniacs Film Co. characters, this one has no true given name because that detail could not be established in the film's short running time.
Community content is available under
CC-BY-SA
unless otherwise noted.