Windsor Hotel is the real-life hotel that Johnny Thunder and the Adventurers stay in during the events of Johnny Thunder and the Gift of the Nile. The hotel was once a British Officer's Club and is home to the famous Barrel Bar.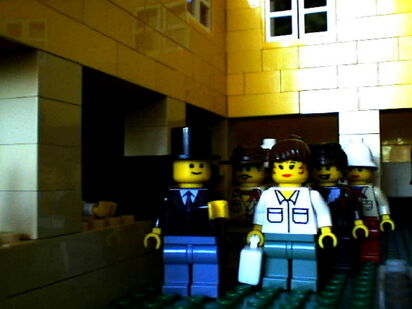 Location Details
History
The Windsor Hotel was originally constructed in 1893 as part of a complex of royal baths. During its early years, it also served as an annex of the nearby Shepherd's Hotel, which no longer exists. During World War 1 and shortly after, the hotel also was used as a British Officers' Club.
Today, the hotel is renowned as a historic look into the bygone era of British Colonialism, as many of the hotel's furnishings date from this period. However, the hotel was closed in September 2019 for repairs after construction on the Cairo Metro Line damaged the building. It has yet to re-open.
Characters of Residency
The following characters are commonly found in the Windsor Hotel.
Desk Clerk

Ernest Kerry

Amir Samara
Sub-Locations
The following locations are part of the Windsor Hotel.
Barrel Bar
One of the hotel's more iconic locales and a popular Cairo meeting place, the Barrel Bar is notable for basing many of its furnishings around barrels, from the chairs to the lighting fixtures. The bottle cabinets behind the bar counter are also adorned with artifacts.
Before Mustache Maniacs Film Co.
The Windsor Hotel is a real-life hotel in Cairo, Egypt. During the research process for Johnny Thunder and the Gift of the Nile, a real-life hotel was sought out for setting some of the Cairo scenes in order to make the film overall feel more believable. As this hotel existed in the past as a British Officers' Club, it served as a great way to set up a thrilling, yet modern, adventure. The hotel's canon history exactly mirrors that of its real-life counterpart.
Trivia
The Windsor Hotel hosts a wood carriage, manually-operated, elevator that is still in use. This is the oldest operating elevator of this type in Egypt and among the oldest in the world.
Originally, the bar sequence for Pharaoh's Quest: The Curse of Amset-Ra was going to take place in an unnamed bar. However, as a way to canonically tie that film to Johnny Thunder and the Gift of the Nile, the Windsor Hotel's bar, the Barrel Bar, was thoroughly researched for its 1924 setting and used as the bar in that film.
Gallery
External Links